Flavours on the fork
Four restaurants in Bangkok where you can satisfy your HK food cravings
With international travel still heavily restricted, Thais are really missing taking off for a long weekends in Hong Kong, a favourite short-haul destination, as well as enjoying vacations in the SAR. There are hundreds of reasons why people miss Hong Kong, but food is most likely at the top of the list.
While waiting for the situation to improve, we decided to bring a little bit of Hong Kong into our lives and brighten our days. We walked around the streets of Bangkok in search of the best Hong Kong-style food. Mainly influenced by Cantonese cuisine, Hong Kong specialties are rich in flavour and history, and boast a delicious blend of complex flavours, textures, tastes and styles.
Surprisingly, we found quite a number of restaurants and eateries in Bangkok offering true Hong Kong fare. Here are our favourite finds.
1. Dai Lou
A favourite of foodies with style, Dai Lou is the first restaurant in Bangkok to redefine Hong Kong Chinese cuisine and tapas with a modern twist. The chef is creative and bold, yet respects the traditional culinary influences inherent to Chinese cuisine. "Modern Chinese tapas" may be new to many and this is a great place to explore this exciting concept.
Dishes are named after favourite Hong Kong districts and landmarks with the aim of making diners feel like they are travelling around Hong Kong with each delicious bite. Their signature Wan Chai crispy golden pork belly and Central roasted duck are some of the menu highlights but diners should definitely try Jordan scallop, scallops in spicy Sichuan sauce with deep-fried crispy milk. Seasonal creations, lovingly prepared and beautifully plated, will make you miss Hong Kong and want to come back to Dai Lou even more – until we can travel again, of course!
Location: Soi Ari 1 (opposite Suanbua school), BTS Ari station
Open daily from 11am-10pm
2. Ah Fuu Ped Yang (Ah Fuu Roasted Duck)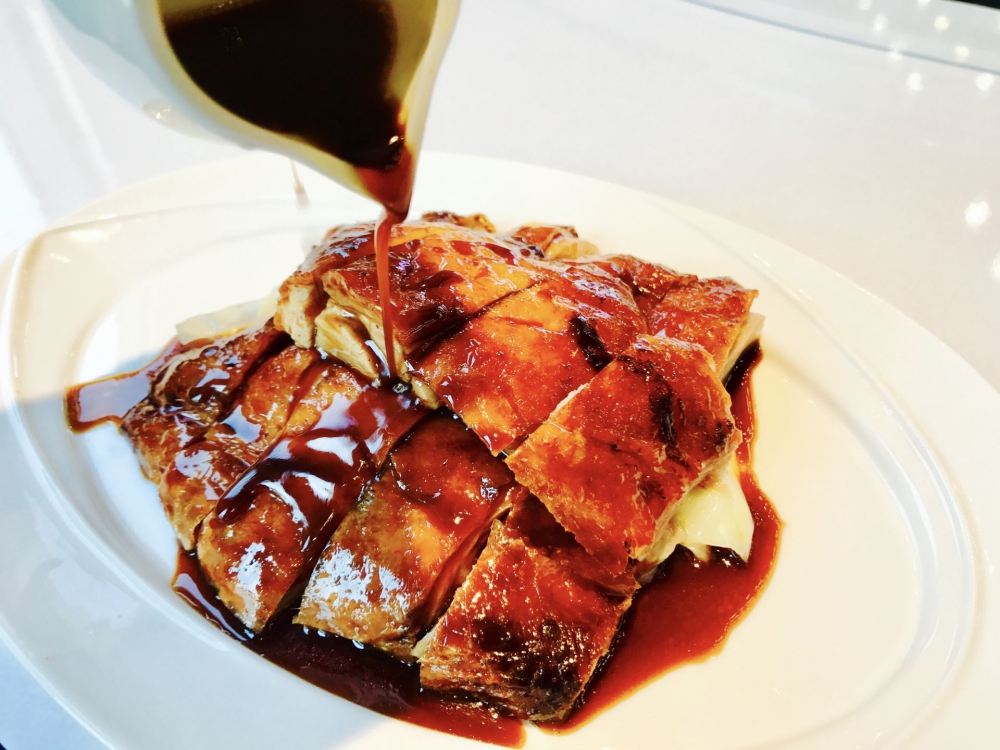 This spacious restaurant is very proud of its signature roast duck, all bright and shiny, with the skin beautifully lacquered. It is advisable to come with at least 5 friends and family members so you get to try a variety of dishes in just one delicious meal and get a better idea of what this popular establishment has to offer.
Among the favourites are the Guifei chicken, red barbecued pork, stir fried pork with black bean sauce, soy sauce chicken and pork with sweet sour sauce. Share a plate of 5 Cantonese roast meats while waiting for the rest of your order to arrive. Ah Fuu's seasoning for every dish is just right - not too sweet, not too salty - and the ingredients are fresh and of the best quality so it's worth the trip here to get your Hong Kong roast meat cravings fixed!
Location: Town in Town, Srivara Road.
Open daily from 9am-9pm
3. Chef Man
This fine dining restaurant chain has been spotted by the Michelin inspectors in Bangkok! A celebrity in his own right, Hong Kong-born Chef Man specializes in Hong Kong-style Cantonese cuisine and has earned star status on the local food scene for the consistently high quality of his creations.
Diners can chill in the Hong Kong tea house ambience and be transported to Hong Kong while savoring Chef Man's authentic home-style Cantonese specialties including an enticing list of dim sum creations. Among the most ordered dishes are roasted crispy pork, deep-fried crispy chicken, crispy and chewy bao filled with roast pork and sweet lava buns.
Chef Man's dishes are perfectly seasoned and delightfully presented, making his restaurants stand out from the rest, as evidenced by all the awards and accolades he has received.
There are 3 branches:
Eastin Grand Hotel Sathorn near BTS Surasak station
Royal Palace II on Ratchadamri Road
Thana City Golf & Sport Club on Bang Na-Trat Road
All branches are open for lunch Monday to Friday from 11.30am to 2.30pm (from 11am on Saturday and Sunday) and for dinner daily from 6 to 10pm.
MX Cakes & Bakery
Hong Kong's world-famous Maxim's mooncakes are ordered by the dozen by loyal customers to share with family and friends in celebration of the Mid-Autumn Festival.
For a nostalgic taste of Hong Kong, drop by any branch of Maxim's, known in Thailand as MX Cakes and Bakery, and enjoy authentic Hong Kong milk tea and their signature Bo Law bun, with its buttery soft filling and sweet crispy crust or tuck into a Pork bun featuring big chunks of pork. If you're not in a hurry, queue up for the hot tarts, with sweet or savoury fillings that are to die for – egg whites, cheese lava, chicken or barbecued pork. The bakery and pastry selection delivers that authentic Hong Kong bakery aroma and taste that makes Maxim's a favourite from generation to generation.
MX Cakes & Bakery: G floor, Siam Paragon's Gourmet Market (opens daily from 10:00 to 22:30)
For more information on Hong Kong's culinary scene and gastronomic secrets, visit DiscoverHongkong.com