The menus you should not miss when visiting Chiang Mai!
Thailand's magnificent nature, stunning beaches, and distinctive and wonderful cuisine have drawn people from all over the world. If you are planning a trip to the north, Chiang Mai, the capital city of Northern Thailand, has a certain charm that will make you fall in love with both excitement and serenity. It is one of the historical cities and the largest city in northern Thailand. If you have had enough of the hectic city with its many skyscrapers and want to get away from that. Chiang Mai might be the finest choice for you.
Each region of the country has its own specialty and flavor of food. Northern Thai cuisine, commonly known as Lanna cuisine, differs from other parts of Thailand in that it has strong Burmese influences and a milder flavor than northeastern (Isaan) or southern cuisines. Lanna meal is typically served on a traditional Khantoke tray table, a traditional dining table popular in Northern Thailand, for special occasions or as a warm welcome to guests, which you may enjoy and immerse yourself in northern Thai culture.
Imagine being free of people while relaxing in a slow-paced countryside with stunning mountain views. It will be more convenient and comfortable to explore the city in the right car, with or without a driver. Traveloka vehicle rental provides the best service possible through its trusted partners. Check it out here.
Want to experience northern Thai food? Here is a list of our top 6 dishes you should not miss when visiting Chiang Mai!
1. Khao Soi
If you want to experience northern Thai food, this is the first menu you should try. The yellow curry noodle soup, locally known as Khao Soi, is a flavorful coconut-based curry broth with soft and crispy fried egg noodles and delicate chicken thighs (or beef). Optional additions of lime, onion, chili, and pickled mustard greens round out the dish. Its rich and unique flavor makes everyone fall in love with this dish.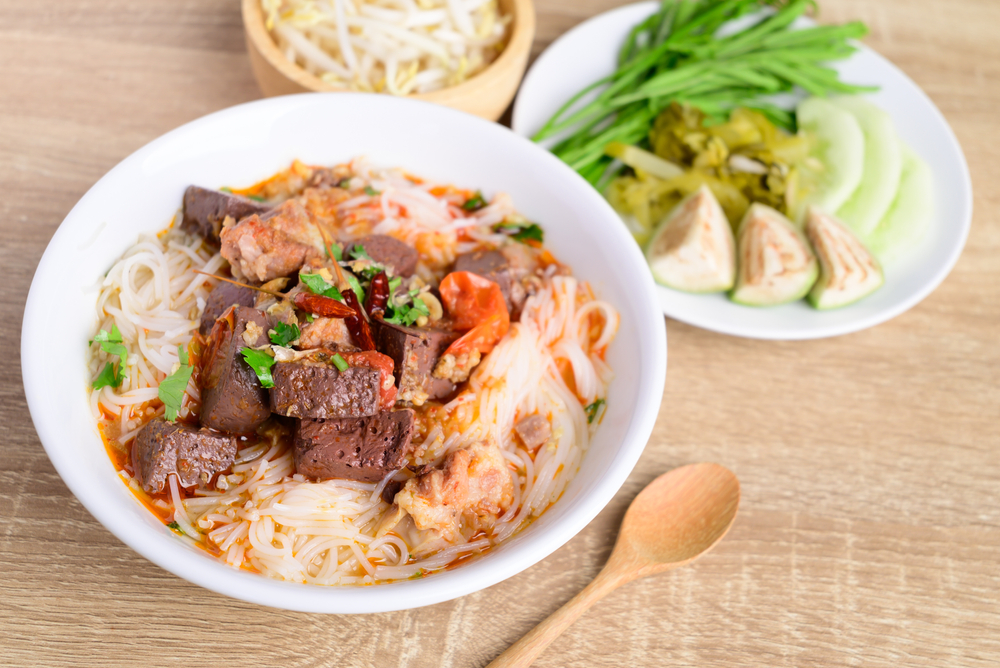 2. Kanom Chin Nam Ngiaw
Another popular dish that you should add to your list is Kanom Chin Nam Ngiaw. The rice noodles, coupled with the red soup, which is a tomato-infused broth, includes chunks of pork blood as well as pork meat, giving a salty, sour and somewhat spicy flavor. Typically served with bean sprouts, pickled mustard greens, lime slices, and crispy pork rinds on top.
3. Gaeng Hung Lay (Northern Pork Curry)
Northern Pork Curry, Gaeng Hung Lay, originated in Burma. Tender pork cooked in a rich curry with dried chili, aromatic herbs, shrimp paste and tamarind paste, which adds a sour and salty flavor to this menu. One of the locals' favorite dishes that you should taste at least once in your life.
4. Sai Oua (Northern Thai Sausage)
Northern Thailand delivers a spicy bite in the form of Sai Oua, a special style of sausage. It is a classic Northern Thai treat and one of the most popular treats purchased for friends and family. The minced pork sausage is seasoned with garlic, herbs, red curry paste, and chili, making it flavorful and unique. It is typically served with sticky rice or fresh vegetables. If you want to experience a traditional northern Thai flavor rich of aromatic herbs, this is a must-try.
5. Chili Dips (Nam Prik Ong and Nam Prik Noom)
There are two kinds of Northern Thai chili dips that are very popular among locals. Let's start with the first one, Nam Prik Ong, a mildly spicy tomato and shrimp paste chili dip made with minced pork. It is always a reddish tint from tomatoes and dried chiles. The taste is a delicious blend of sweet, sour and salty, and is somewhat mild in heat, particularly when compared to most other Thai chili dips.
If you stroll around the market, you will spot plastic bags with a bundle of crispy pork rinds, locally called Kab Moo, along with Nam Prik Noom for dipping, which became a go-to snack for many locals. Nam Prik Noom is a wonderful blend of roasted green chile, garlic, shallots, and fresh cilantro. The term "Prik Noom" refers to a type of long, somewhat pale green chili found in Northern Thailand. It has an incredible depth of taste that is a result of the tangy and spicy chilies blending with the grill's mellow smokiness.
The best way to eat these Northern Thailand treats is as a condiment or dip alongside the main course, commonly with raw or boiling vegetables, sticky rice, or Kab Moo.
6. Kai Pam
If you wandered around the walking street, you may have noticed several food stalls cooking stuff using banana leaves. Kai Pam is a grilled egg with chopped green onions, chilies, and a pinch of salt wrapped in a banana leaf. It is typically served as an appetizer alongside boiled vegetables or steamed sticky rice. Try it with fried chicken or Kab Moo, crispy pork rinds, for a more flavorful experience.
Are you salivating? There are a lot more northern food possibilities for you to explore. Chiang Mai also has a terrific café culture, with new cafe concepts sprouting up from time to time that all Instagrammers will appreciate. If you are looking for a good cup of coffee, this city has a lot to offer, from arabica production to freshly brewed coffee. So gather your belongings and prepare to take flight. Looking for a flight to Thailand with no booking fees? It is easily done via https://www.traveloka.com/en-th/flight and don't forgot check airport restrictions before you flight here
Aside from eating, there are many more things to do in Chiang Mai. Whether you want to see the sunrise at Doi Inthanon National Park, immerse yourself in historic architecture at Wat Phra That Doi Suthep, escape the city heat at Chiang Mai's Grand Canyon, or finish your day shopping at Chiang Mai Night Bazaar.
Thailand now encourages all visitors to immerse themselves in its rich natural surroundings and experience its cultures. Chiang Mai invites you to try its cuisine and appreciate its extraordinary attractions. What else